Frequently Asked Questions
Edit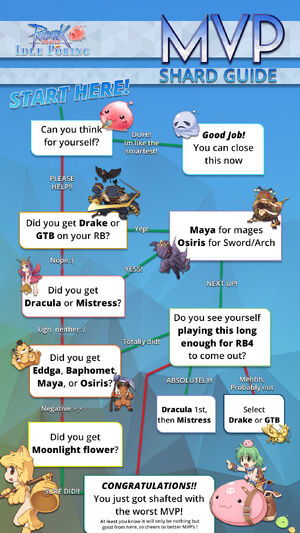 What's the best usage of diamonds?
There is no best usage but it is recommended to do 880 (10x Pet Draw) if you do not have all the pets
Save up on accelerates, this diamonds may come in handy and harder to obtain in later stages..
They are the 4 pets that give group disabling skills in R2. Familiar, Eclipse, Bigfoot, Hornet.
It is up to you, but u rebirth at level 80 for R1 and 100 for R2. MVP Pet Shards are great to have if unlocked before rebirth.
What is that badge beside your name?
It is for rebirth players.
Why can't i use my combat pet exp potions?
Your pets are exploration pets, they can only use exploration exp potions. Turn them to combat pets at Pet Lvl 100.
When pets reach level 100 exploration level, you can transform them at a cost of 10k zeny.
Why can't I pass this stage xxx?
It could be your gems, gears, suit, power, skill or rune setups.
Can I skip rune or pet skill levels?
No
Should I trust any guide 100%?
No. Each guide has its own merits and are useful to get an idea of where to focus on. Newer guides may or may not cause information to become outdated.